Firefighter Scholarship Exclusive Offer At Approved Fire Academies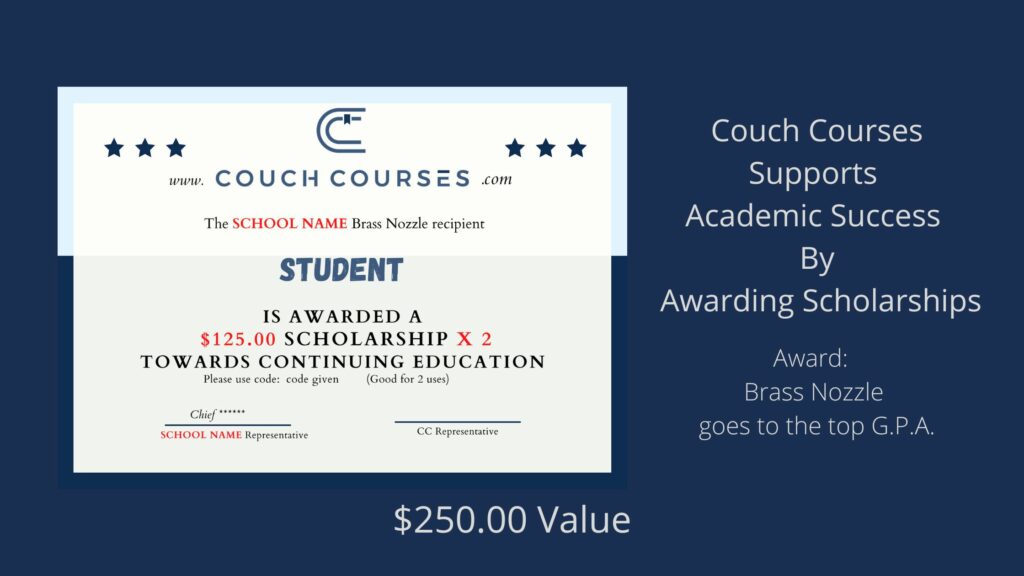 Want a Firefighter Scholarship, then keep reading…
First, learn a little about us.  Then, continue reading for the scholarship opportunity.
Couch Courses is a life-paced, self-study public safety school that focuses on helping our students with professional improvement and career development in firefighting. We are approved by the Florida Bureau of Fire Standards and Training and our courses are recorded on the FCDICE registry.
Additionally, we have partnered with Columbia Southern University to convert our courses to college credit!
Couch Courses is firefighter owned and operated and wants to support firefighters. How do we do this?  By awarding Scholarships!
How does your fire academy qualify for the firefighter scholarship program we offer?
All state approved fire academies in the United States have this exclusive opportunity to qualify their schools for Couch Courses scholarships.  This can be accomplished by filling out a form located on our website at Fire Academy Scholarship Program Awards. 
Once the form is filled out, than the program director will be contacted and the qualifying information confirmed by Couch Courses Administration.  Occasionally this process may take some time, but once verification is completed, that fire academy will be on our list.
Who gets awarded a firefighter scholarship?
There are two fire academy scholarships we offer:  The Brass Nozzle Award, and the Runner-up Award. 
The scholarships are awarded to the top two GPA's in each respective fire academy class.  There is no minimum GPA required to be awarded a scholarship from Couch Courses.  Instead, it is up to each class to compete for the top 2 spots!
What financial support do our scholarships offer?
Presently, the fire academy awards are valued differently from each other.  The value of the Brass Nozzle Award is 2 courses, or $250 of total value.  The value of the Runner-up Award is 1 course, or $125 of total value.  These awards cannot be redeemed for cash, therefore they can only be used towards course enrollment costs at Couch Courses.
Why do we offer scholarships?
As the cost of education continues to rise, we adapt.  When you are competing to get hired, or are wanting to expand your knowledge, it can become costly with traditional college courses.
Couch Courses wants to support fire academy cadets who excel and rise above the rest by offering financial support to the students who finish each academy class with the 2 highest GPA's. Students that work hard and are motivated will benefit from our program.
Do you have to pay the firefighter scholarship back?
Once you win it, it's yours.
You don't have to pay it back;  aren't required to use it; cannot redeem it for cash. 
How do you redeem your scholarship?
Contact us to redeem it so we can verify your award and congratulate you!  This will also be verified through your respective fire academy. Once it's awarded to the students, it is immediately available for use at Couch Courses and can be redeemed and applied to any Couch Courses we have online.
Is there a time limit to use the scholarship?
No, at the present there is no time limit.  They are good for as long as Couch Courses is in existence!
How can it help me achieve my goals?
Besides the financial benefit, we help Florida firefighters get closer to acquiring their Fire Officer I or II certificates.  Our courses cost $125 each, and there are four paid classes in the Fire Officer I series.  With this in mind, our financial awards allow the recipient to earn half of their Fire Officer I, or any two courses that we offer, for free.
Together with the certifications, our courses similarly can be applied towards a degree with our partner Columbia Southern University.  Most of our courses are transferrable to our partner Columbia Southern University.  This means you can earn certificates with us, and work towards a college degree with them all at once! 
What else does Couch Courses offer?
Check our blog every month, where we'll be discussing company news, professional development industry standards, e-learning tips, and much, much more.
And be sure to follow Couch Courses on Facebook, Instagram, Twitter, and LinkedIn for special offers, new courses, and more!