Florida Forest Service: The Forest Ranger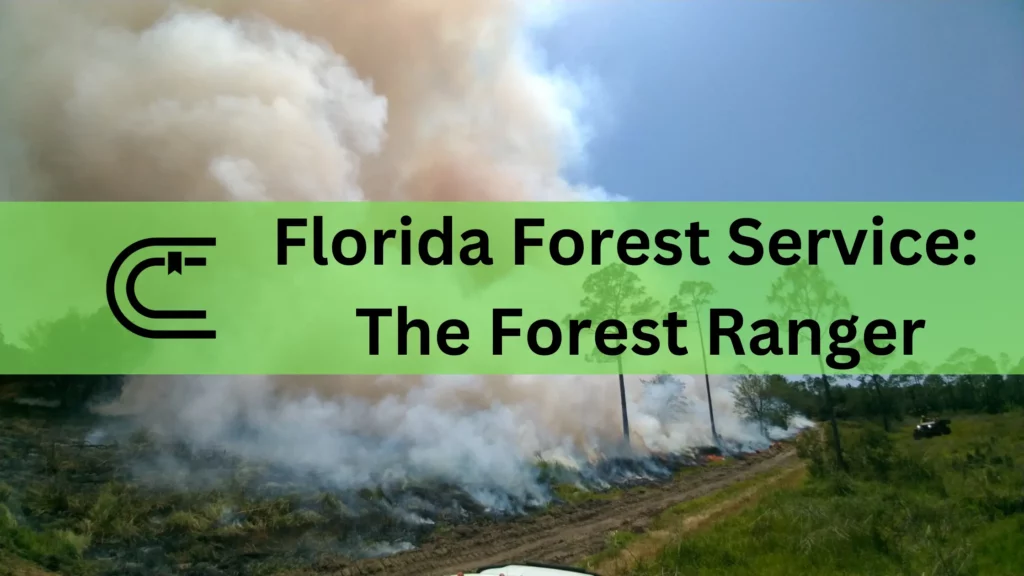 The Florida Forest Service is the lead agency for wildland firefighting in the state, and the official title of a state wildland firefighter is Forest Ranger.  There are numerous paths to becoming a Forest Ranger.  This article focuses on becoming a state wildland firefighter in Florida, as opposed to a federal wildland firefighter. 
Roles and Responsibilities of Forest Ranger
The Florida Forest Service falls under the state's Department of Agriculture and Consumer Services.  As a result, there are numerous land management responsibilities that are under the purview of the Florida Forest Service.  This includes the following:
tree plantation cultivation
ecosystem restoration and maintenance
tree harvesting
exotic invasive species control
prescribed burning
authorized burning law adherence and advising for private land owners
agriculture emergency response and hurricane/natural disaster response
In addition, there are numerous opportunities for taking various positions on Western fire deployments.
The assignments that the state wildland firefighter receives are quite varied. However, the primary responsibility is the prevention, detection and suppression of wildland fires.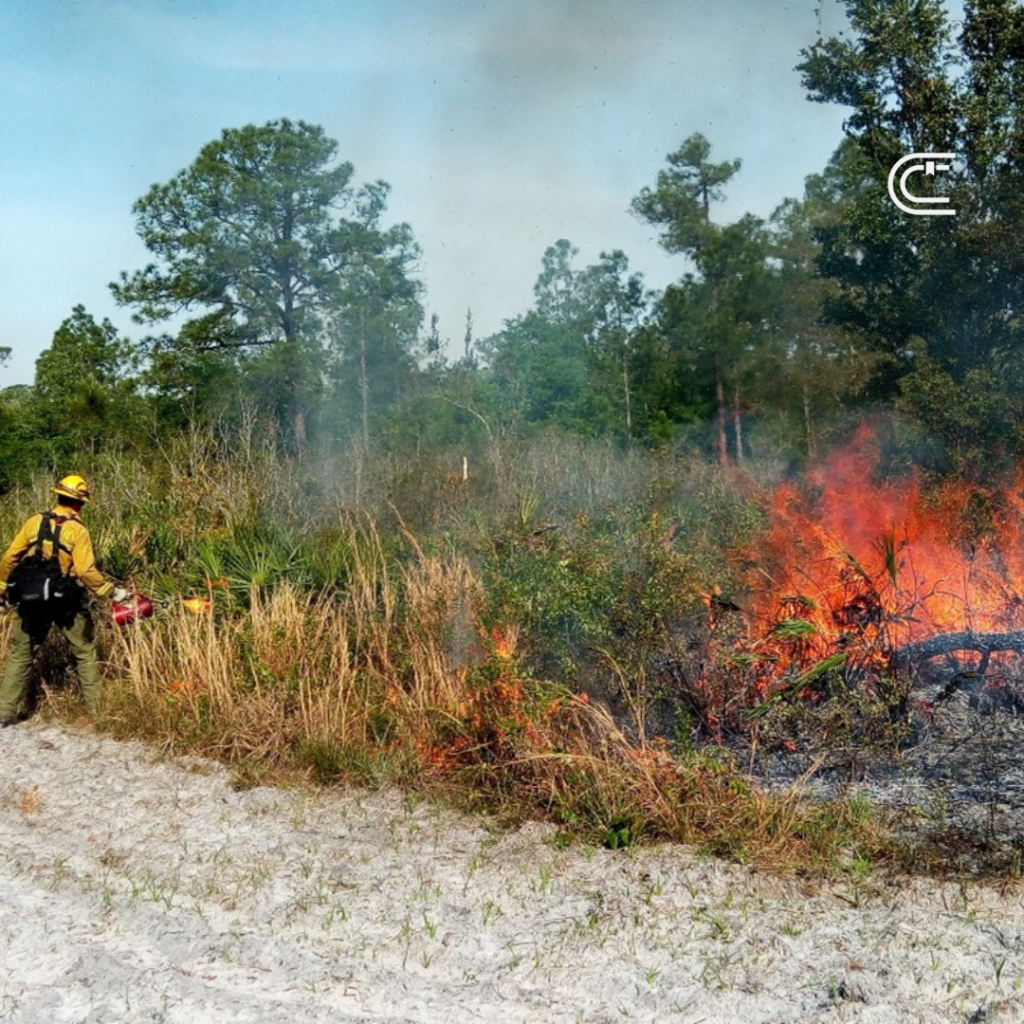 Hiring requirements/expectations
The potential candidate will apply for the position through the state employment website: State of Florida Careers – People First (myflorida.com).  The positions are listed under Agriculture and Consumer Services, with Forest Ranger as the job title and Public Safety as the job category.
University/College education is not a requirement, though it can improve your starting salary.  Prior experience with prescribed fire, fire suppression, and heavy equipment operations are helpful, but not necessary.
A high school diploma or GED is required.  The application requires you to answer questions on your experience and education as well as your willingness to travel and work an irregular schedule.
Just as a heads up, starting salary is typically much lower than municipal or county structure fire departments and fall in the low $40,000 range.  Part of the reason is medical response is not part of the standard responsibilities of the Forest Ranger.
The initial training includes many different aspects:
Once hired, your local unit will issue you a taskbook that you must successfully complete prior to attending Basic Fire Control Training (BFCT).  The taskbook is comprised of numerous tasks that you are taught and must demonstrate basic proficiency under the guidance of seasoned forest rangers in your unit. 
Some of those tasks involve utilizing various pieces of equipment, heavy equipment operations, fire prevention programs, brush truck operations, basic wildfire investigations, Florida burn laws, portable and mobile radio operating/protocols, etc. 
After the tasks are performed to the evaluator and/or supervisor's satisfaction, they are signed off.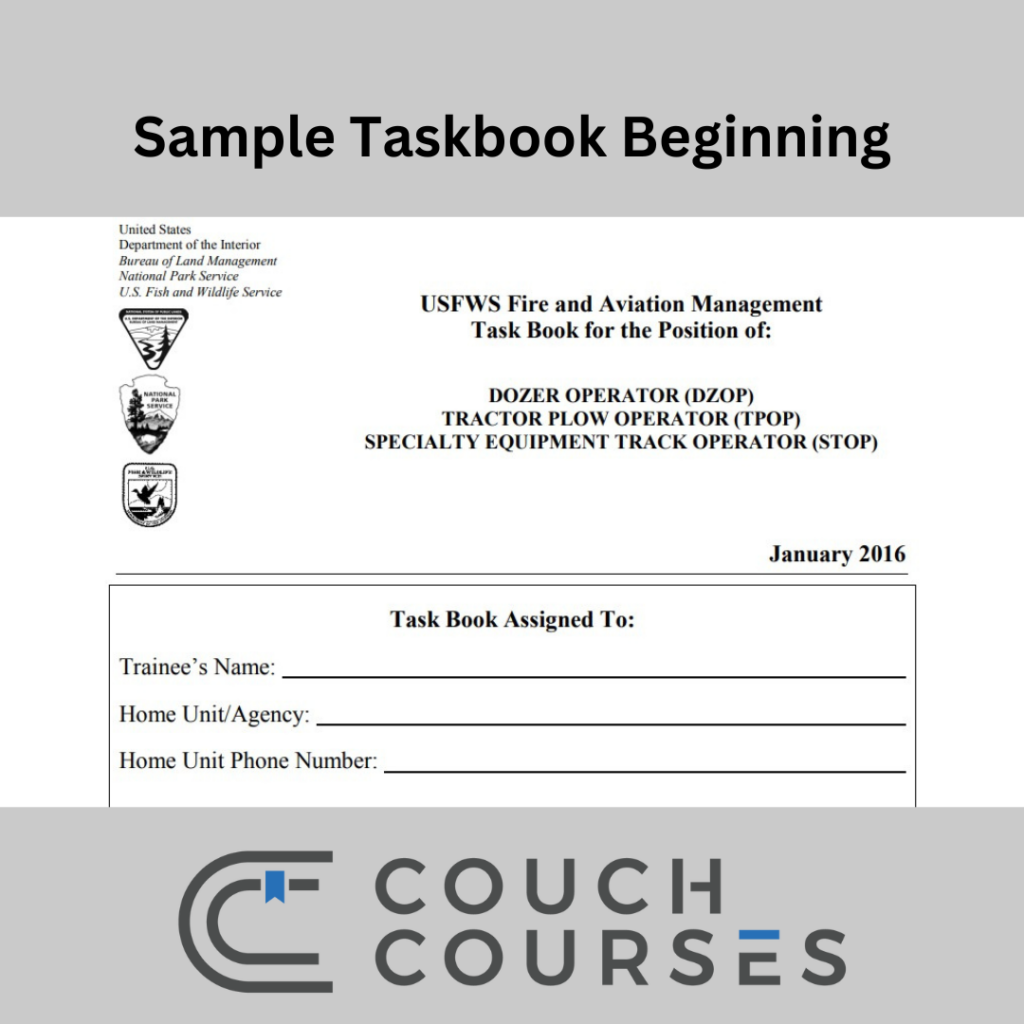 You are also required to obtain a class B CDL and in some areas a class A CDL.  If you don't already have a CDL, you will get sent to a commercial driver training school (an outside vendor not affiliated with the agency). 
There is a written test you take to obtain your learner's permit.  The final test consists of a "walk-around" where you identify parts, functionality, and safety of the truck.
After the "walk-around" you are required to take an "on-the-road" test with the test administrator.  Here you will demonstrate various maneuvers.  You will be evaluated on general driving in traffic skills as well as special safety scenarios. 
Passing your CDL test is a requirement for continued employment.
You are then scheduled to attend BFCT at the statewide Forestry/Wildland Fire Training Center located at the Withlacoochee State Forest (Withlacoochee Training Center or WTC), in Brooksville, Florida.  The BFCT lasts approximately 5-6 weeks.  Passing BFCT is a requirement for employment as a Forest Ranger, so it is a high stakes class. 
Here you learn about various Florida ecosystems and how fire responds and behaves in each of those environments, weather and topography and how that effects fire, wildland/urban interface complexities in the fire environment, hazardous materials, radio use and operation/protocols, basic incident command and wildfire suppression tactics. 
You are required to get your Firefighter I which is the volunteer structure firefighter school.  This is part of BFCT and is an abbreviated/accelerated class. 
You will undergo medical first responder training.
It is akin to an advanced first aid class and covers some material you may find in an EMT class but not quite as in-depth.  You will also learn how to deal with minor medical emergencies when Basic Life Support is not immediately available.
In addition, there is a physical training component that has varied throughout the years ranging from early morning calisthenics and a moderate pack test (hiking with 25 pounds 2 miles in under 30 minutes) to an obstacle course and a hike with just the fire shelter. 
This usually occurs every morning while you are attending BFCT.
Graduation and Mentorship
When you successfully pass BFCT you will receive your "yellow" helmet and have the privilege of wearing the "Certified Wildland Firefighter" patch on your fire jacket (nomex).  This will be given to you at your graduation ceremony. 
In addition, you'll receive a packet of certificates from the National Wildland Coordinating Group (NWCG) for the NWCG classes you completed.  This usually includes S-130 S-190, S-131, S-110, S-133, FI-110.  Please refer to the NWCG website.
After graduation, you will re-deploy to your home district and respond to fires with the dozer/plow unit as your primary initial attack tool.  You will remain under the watchful eye of more experienced forest rangers and your supervisor for an additional 6 months to 1 year.  Should you have any questions or concerns, they will be available. 
As a new forest ranger, you will be under the tutelage of various personnel and subject matter experts. You will get very skilled at unloading and loading the dozer/plow unit both during the day and at night, tactics, and operating heavy equipment in varied environments as well as the urban interface.
During your first year and subsequent years there are numerous opportunities to increase your knowledge base and focus on certain aspects and positions within wildland fire especially on western fire assignments. 
Many courses are nationally recognized through NWCG (National Wildfire Coordinating Group) and are the required standard for additional qualifications.  These classes are very diverse and can range from various operations positions to administrative and incident management positions. 
Once out of BFCT, you'll receive or could obtain the following training:
Your S-212 (Basic Wildland Fire Chainsaw class) which you can further in getting advanced faller qualifications.
You may also complete the taskbook and get qualified as an ICT5 (Incident Commander Type 5).
You may also take the S-230 series classes (Single Resource) which may include Crew Boss and Heavy Equipment Boss classes and get issued the accompanying taskbooks.
Certified Prescribed Burner Manager
Southern Area Engine Academy (qualifies you to receive and complete your Engine Boss qualification).
You can also pursue Aviation Operation classes which usually begin with Helicopter Crewmember.
Each qualification/position requires completion of the class and taskbook and a complete list can be found on the NWCG website (NWCG).
NOTE:  Before pursuing any "single resource" qualification, it is highly recommended that you first participate as a handcrew member on a western fire assignment.  There, you'll get exposure to what it's like deploying out west on large scale fire incidents, operations, and work/living conditions. 
Continued Educational Requirements
While there are no requirements for continuing education units, as NWCG classes become available, it is in your best interest to take advantage of such opportunities. 
Classes and the completion of their respective taskbooks will allow you to gain more qualifications which will provide you with higher paying opportunities in the form of specialized positions on western fire assignments.  It is also the key to advancing within the agency and is a component for promotion.
For continued employment with the Florida Forest Service, you will need to successfully complete the moderate pack test on an annual basis.  The moderate pack test consists of walking 2 miles with 25 pounds in under 30 minutes.  If you plan on western fire assignments, you will need to complete the arduous pack test.  This entails walking (fast) 3 miles with 45 pounds in under 45 minutes.
Here in Southwest Florida the peak wildfire occurrence is usually between February through the beginning of June.  This lines up with the dry season in Florida.  But because of the ecosystem and weather, wildfires occur all year round. 
When wildland firefighters here in southwest Florida are not fighting wildfires, quite a bit of time is spent prepping, conducting, and monitoring/evaluating prescribed burns.  The autumn season through early winter is typically the prescribed burn season.
So, just a quick note on what prescribed burning entails.  Prescribed burning (sometimes called controlled burns) is a land management tool that is conducted for numerous reasons that include the following: 
hazardous fuel reduction
prepping a site for seeding/plantings
wildlife habitat improvement
plant disease control
forage/grazing improvement
ecosystem management/restoration and to re-introduce nutrients into soil.
Here in Florida, many of the ecosystems are composed of fire-dependent plant and animal species.  This means they require the regular application of fire to survive or thrive.  Southwest Florida is the lightning capitol of the United States.  Lightning strikes naturally spark wildfires, but because of manmade developments like residential and business areas, those naturally occurring fires can't be allowed to burn uncontrolled. 
Many native species are well adapted to regular fire intervals.  When prescribed burning occurs, it mimics a natural process, but under exacting weather parameters and careful monitoring and execution.  Certified Prescribed Burning is conducted by highly trained individuals in a skillful manner under exacting weather conditions and techniques.  They are utilized for a very specific geographic area that considers fuel types, ecosystems and terrain.  The burns have very specific objectives and are conducted to achieve very specific goals. 
One of the side benefits of prescribed burning is that they can reduce the intensity and size of a wildfire or prevent catastrophic scorching of an ecosystem during a wildfire.  Quite a bit of documentation for the writing of the "prescription" occurs outlining all of the above.  Additionally, as a wildland firefighter, you are tasked with approving private landowner authorized pile and acreage burns as well as ensuring civilian burners are within compliance of appropriate burn laws.
How to be a Successful Forest Ranger
Although ultimately, it's about cultivating positive relationships with the people you meet, there are several qualities that help one become a successful forest ranger:
A love of the outdoors and a tolerance for living and working in the outdoors
Open-mindedness and willingness to learn
Patience
Ability to work and live within a close-knit team, as well as an ability to work independently
Good physical conditioning is a plus, especially if you want to advance your career through western fire assignments
Compassion for coworkers, the land, and the citizens
Wildland firefighter assignments can be very physically arduous.  Conditions can be harsh with long work hours, hard physical labor, carrying heavy loads and sleeping on the ground with or without a tent. This gives you an idea of the path and experience of a Forest Ranger and some guidance on how to explore the career.