How to get started in Fire Prevention?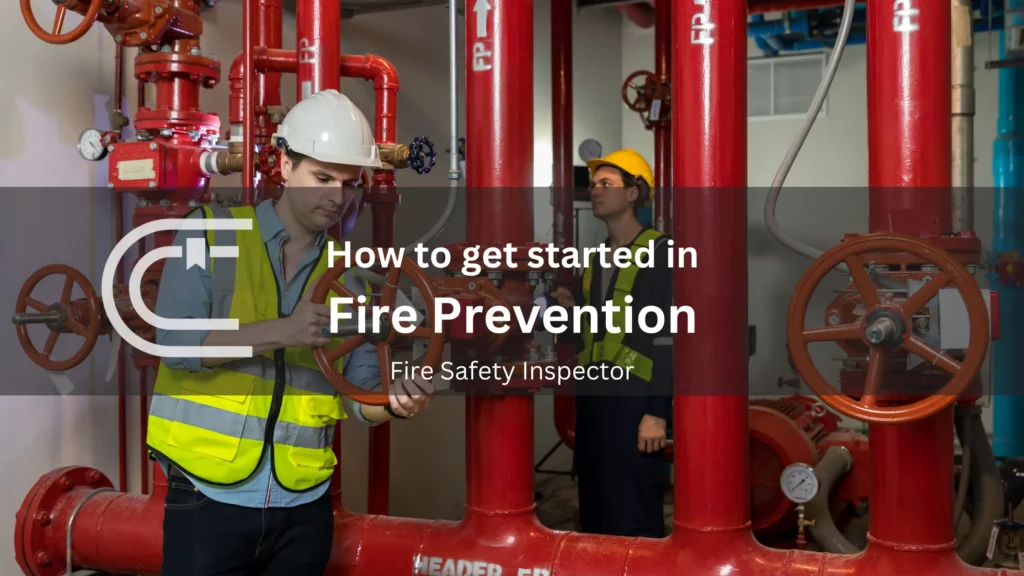 I am often asked, 'How did you end up in fire prevention?' Do you enjoy going to work? Have you always known you wanted to do what you're doing?
My journey to fire prevention
Landing in fire prevention was a journey for me.  The journey helped me get to where I am today. However, it does not have to be a journey for you.  There is a clear path toward getting to my position or a similar position in fire prevention at a local fire department.
This article focuses on fire prevention, specifically Fire Safety Inspector.  Many of the things I cover are relevant to Florida, or States who have adopted the NFPA.
In 2006-2007, I was living in a northern state working at a packaging factory when an opportunity to become a shift safety responder opened up. I applied and was selected for the position.  This position provided basic training for a medical emergency like CPR and basic abilities to stop a bleed.
Many of the workers were older.  In the summer months, we would have a few different workers who would have general heat-related symptoms. The most basic skills I learned allowed me to dip my toes into community service where I could provide basic first aid to my co-workers during their emergencies.
Honing my communication skills
Soon, in 2008, I was out of the factory at a large corporation providing customer service via phone, email, and social media platforms. Dealing with members of the public greatly improved my communication and empathy skills.  It taught me how to interact with them as family members or friends would.
Dabbling in fire prevention sales
Then from 2010-2012, I worked as a contractor for a large corporation providing life safety equipment services.  I learned a great deal about fire alarms, hood suppression systems, sprinkler systems, and fire extinguishers.
During this time my family and I would vacation in Florida, and we loved the area and weather so much that my wife and I decided to relocate and work/live in the destination we so thoroughly enjoyed.
Fire extinguisher tech meets information technology
After moving to Florida, I was looking for employment.  I applied for a fire extinguisher technician position right away.  They offered me a position a small company that asked me, "Are you any good with computers?"  Due to my upbringing around computers, and my previous work at the large corporation, I told them, "Yes. I am very familiar with computers and the associated programs."
How my experiences helped me
All the previous work experience in past positions helped to develop the skills that I utilize daily. As I worked as a fire alarm technician, I began my 'official' path to a career in fire prevention.
Soon, I met a Fire Marshal who taught classes on the weekend for the Fire Safety Inspector certification.  I enrolled in one class a month, with classes meeting every other weekend. It took me 6 months to complete.
What classes Florida requires for Fire Safety Inspector
For Florida you will need five separate classes.
Codes and Standards
Construction Documents and Plans Review
After successfully completing all these classes individually, they need to be logged to your account under the FCDICE database.
It is a acronym specifically used in Florida, but I am sure it exists in other states under a different name. 
You need to create and maintain an FCDICE database for the entirety of your career.  Now, everyone asks what FCDICE stands for, and it is this:  Fire College Department of Insurance Continuing Education (State of Florida Bureau of Fire Standards and Training).
Florida state certification
A background check and fingerprints must be completed prior to being able to sit for the Fire Safety Inspector exam.
Once you have successfully completed the required courses, and they are logged into FCDICE, you will be able to move onto a state certification test.  These tests are typically administered through a licensed Pearson Vue testing center.
As of the date of this article, you will be able to bring a copy of 'The Florida Fire Prevention Code' with you to your test.  You will most likely need it.
One of the best feelings is getting immediate results.  There are quite a few state tests when it comes to the fire service which you leave Pearson Vue knowing if you passed or failed, this is one of them. 
After passing the test you are officially a state-certified Fire Safety Inspector. At that point, it's time to start applying for open positions in which you meet the minimum qualifications.
Various openings and applications
The starting point of your career in fire prevention is the certification you just received; it is not the end by any means.
There are going to be job postings for a Fire Inspector which requires Firefighter I&II, EMT/Paramedic, and various NIMS classes. If you have those qualifications obviously you should apply.  If not, there are postings out there that only require a Fire Safety Inspector I certification.
To receive announcements of job openings in fire prevention in Florida, there is something called the A-List.  The A-List are emails sent by the Bureau of Fire Standards and Training pertaining to these openings, among other fire service topics.
If you wish to receive A-List emails made by the Bureau of Fire Standards and Training, send an email to:  fsfc-alist@MyFloridaCFO.com requesting you be added to the list.  All requests are subject to approval by the Bureau of Fire Standards and Training.
Your journey to fire prevention
Obviously, this story is MY journey toward where I am today.  I feel lucky to have the experiences that I have, and I know the skills that I learned and developed have helped me immensely in my career. Do not feel that you have to do the things I did to start yours.
A job in fire prevention is an ever-expanding skillset. You will have continuing education, meetings, classes, public education outreach, and quite frankly more time in a code book than almost every other position within the fire department. The community, business owners, county administration, maintenance personnel, and contractors will call on you to help them navigate life safety code questions.
It's highly recommended that if you are looking at this career path to have a strong verbal/written communication skillset, be comfortable communicating with people, and be able to explain things technically and at times in non-technical terms.  Read up on articles discussing topics in fire prevention and practices.  Most of all, get started on the courses!
If you want to be part of a career that is challenging, requires independent work, teamwork collaboration, and a desire to help others … what are you waiting for?
Of the various career fields I have been associated with in my life, the fire service is by far the most rewarding. I am thankful every day that I found a career in fire prevention that I am excited to go to every day.  I hope that if you decide to pursue this career path you will feel the same satisfaction I do as well.