The Florida Incident Safety Officer Course for Firefighters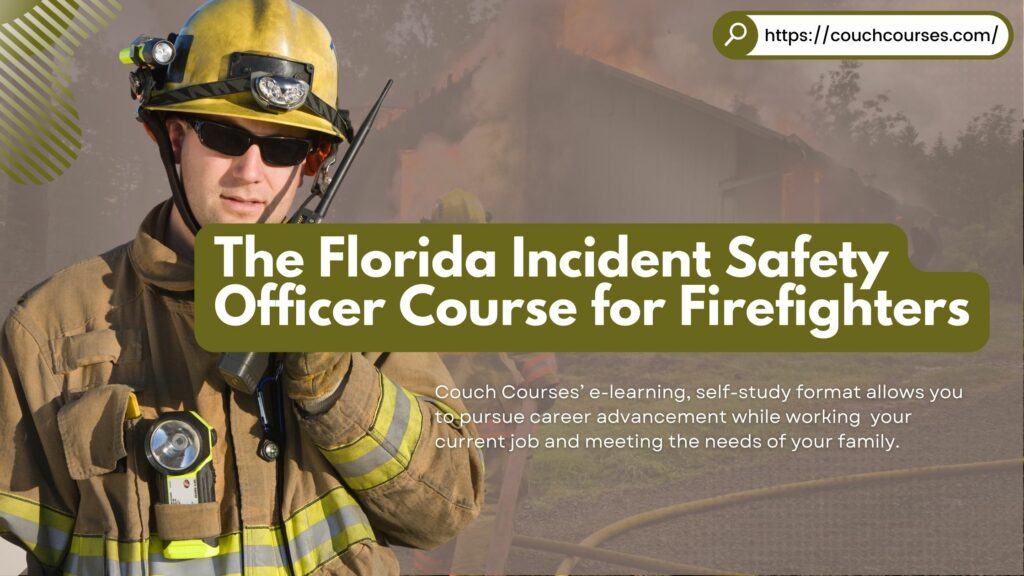 A firefighter's job is to save lives and mitigate damage during a fire, medical emergency, or other dangerous situation. While firefighters by their nature put themselves in harm's way to protect the citizens they serve, firefighter safety remains a top priority for the Florida State Fire Marshal, the Florida Bureau of Fire Standards and Training, and everyone who supports Florida emergency services personnel.
We want to keep our Florida firefighters safe.
Our online Florida Incident Safety Officer Course is for those people in the Florida fire service who want to make protecting firefighters a key part of their job. This is a leadership position that touches all aspects of fire service duty during emergencies.
(Please note: Couch Courses' Incident Safety Officer Course requires in-person attendance for your final presentation. Please see our calendar to ensure that you will be able to appear before the course instructor, at the designated location, within your enrollment period.)
What is an Incident Safety Officer?
An Incident Safety Officer (ISO) assesses an emergency situation in terms of the immediate and potential risk to their fellow firefighter team members. The ISO works with other members of the command team to formulate an effective course of action for managing an emergency while protecting citizens and mitigating firefighter risk.
The presence of an effective ISO will not hinder operations but streamline the incident action plan (IAP). This requires quick and effective assessment of a broad range of variables (setting, resources, tactics, outcomes, and other risk factors), communicating this assessment, teamwork in the development of an IAP, and proactive enaction and adaptation of that IAP while continuously monitoring the emergency situation.
What will the Florida Incident Safety Officer Course cover?
Couch Courses Florida ISO online course covers the assessment of buildings, wildlands and other emergency settings. It also touches on firefighter risks including smoke, hazardous energy, triggers, traps and HazMat. Students will learn specific regulations, codes, standards, laws and safety procedures that might better inform ISO decisions in an emergency.
The course also covers post-incident ISO responsibilities, professional development, and other aspects of the Safety Officer's role.
What are the Florida ISO online course requirements and accreditations?
Course participants will need the Fire Department Incident Safety Officer textbook 3rd Edition (2015); Publisher: Jones & Bartlett Learning; ISBN-978128404195-8.  Follow the link to our products page to find the book offered at a reduced price.
While this is an online training course, the final presentation must be made in-person to the course instructor at a designated time and place.
Completion of this course will earn you 45 continuing education units (CEUs) toward Fire Safety Officer, Firesafety Inspector, and Fire Code Administrator, as well as three credit hours as an elective at Columbia Southern University.
Couch Courses' Florida Fire Training Standards
In addition to providing career opportunities for professional firefighters, Couch Courses takes our responsibility as an online training hub incredibly seriously. Not only do we fulfill those continuing education requirements laid out by the Florida Fire Service, but we provide essential training and skills for Florida firefighters, including Fire Safety Officers, to protect our citizens, protect their fellow firefighters, and protect themselves.