Thinking About A Career In Firefighting?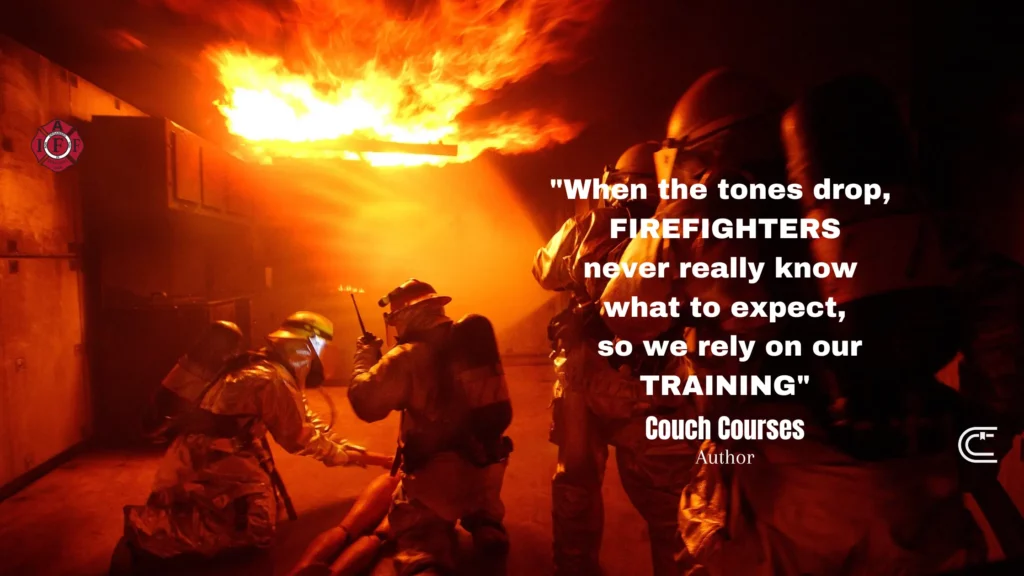 You see us doing all these things:  driving through your neighborhoods with lights and sirens; helping your families with their medical emergencies; fighting vehicle fires; fighting house fires; responding to car accidents; participating in community events and fundraisers;  the smiles on our faces. Wondering what it would be like to be one of us?  What are you waiting for, we are recruiting more of 'us' all the time!  Couch Courses helps you discover how to get started in your firefighting career right now.
Where To Start Your Firefighting Career?
So you want to be a firefighter and you are wondering where to begin?  First, find a Fire Academy near you, then enroll right away because there may be a waiting list.  Fire Academies in your area offer required training for your state so get started there.  Here is a list of Florida Fire Academies that are approved by the Florida Bureau of Fire Standards and Training.
These academies  get you the basic information and requirements to be a firefighter in your state.  They are structured to help you succeed in the firefighting industry.  However, before you begin, prepare for a structured and rigorous program revolving around education and physical training.
What Is The Importance Of Education?
We can't stress enough the importance of education and training in the fire industry.  The days of charging into a fire or emergency medical scene without proper knowledge and training are over.  There are plenty of resources available that will help inform firefighters on how to perform their jobs more effectively.  Read this article about higher education in the fire service from Fire Rescue 1.  The author discusses the current trend towards education and training in the fire service, and we couldn't have explained it any better.
What Is Our Mission?
Here at Couch Courses, we have a very simple mission:  To transform lives through education and service. 
How Do We Meet That Mission?
We provide high quality fire courses to aspiring and current firefighters.  We provide these courses online and through blended formats.  A blended format means that course curriculum is provided online and through an in-person attendance at a designated time and location.
What Firefighting Career Courses Do We Offer?
Not only do we have a wide selection of courses we offer that apply towards your firefighting career, we are also adding courses over time.  Our courses assist firefighters in pursuing their certifications in Fire Officer I/II, Health and Safety Officer, Incident Safety Officer, Fire Service Instructor I/II/III, Health and Safety Officer,  Fire Inspector I/II, and all are approved by the Florida Bureau of Fire Standards and Training. 
Do Our Classes Count Towards College Credit?
Yes!  Guys, this is something special!  We searched and searched, and finally found a partner we liked…. Columbia Southern University. We successfully passed their arduous assessment process and were approved.  Through this partnership, Couch Courses' offerings can qualify as secondary-education course credits. Not only will you receive Florida course certification upon completion, but also your online/blended courses easily convert to higher education credits from CSU. As such, they are transferrable for college credits toward your associate's or bachelor's degree at CSU.  It doesn't get any better than this! 
CSU also offers Couch Courses students a Learning Partner Tuition Discount of 10% and an application fee waiver ($25.00 value currently). 
Our website includes more information about these degree programs and discounts, as well as links to their applications.
Be sure to follow Couch Courses on Facebook, Instagram, Twitter, and LinkedIn for special offers, new courses, and more!