Learn How And When To Use Fire Extinguishers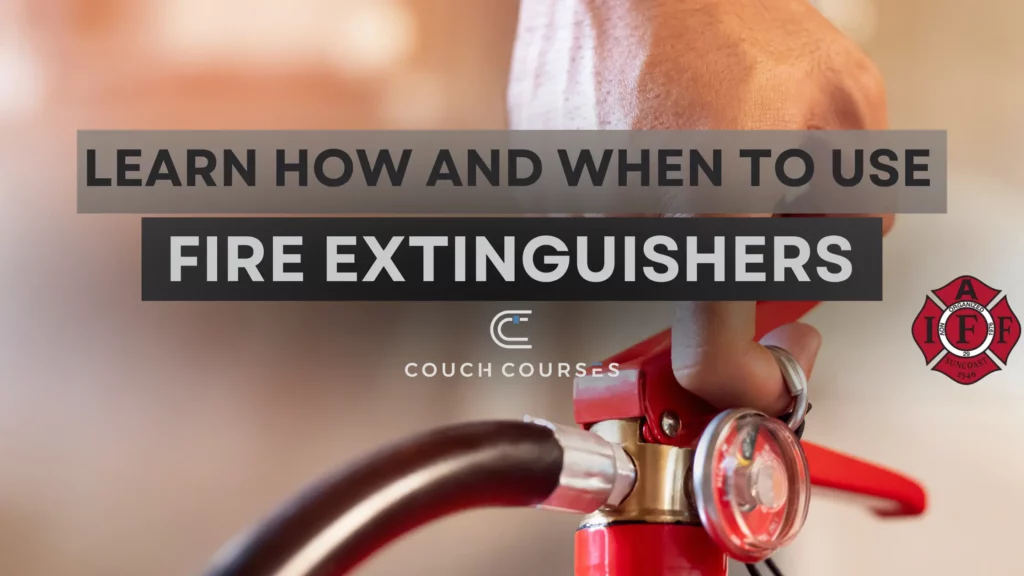 As firefighters, we learn most small incipient fires can be put out quickly if you know how and when to use a fire extinguisher.  Sometimes we need to refresh and go back to basics to cover some common fire extinguisher topics since we don't use them very often.
It's important to classify fires to determine the type of hazard you are dealing with and the appropriate extinguishing agent to use.  Fires are classified by the type of material burning.  Some examples of each class of fire are listed below.
| | |
| --- | --- |
| CLASSES OF FIRE |   |
| CLASS A | Ordinary combustible fires – paper, wood, plastics.  |
| CLASS B | Flammable liquid vapors and gas fires – oil, grease, gasoline/ propane, butane. |
| CLASS C | Electric source fires – power lines, electronic devices like computers, appliances. |
| CLASS D | Exotic metal fires – aluminum, titanium, magnesium, lithium, zirconium, sodium, and potassium. |
| CLASS K | Cooking grease/oil fires – vegetable oils, animal oils, or fats in cooking appliances. |
Fire Extinguisher Classifications
Getting to know your fire extinguisher classifications is something we learn in firefighter I and II at the local fire academy.  
There are 5 classifications that are identified by pictograms that have a letter, symbol, and color representing each classification; and they are unique to the classes of fire they are effective in extinguishing.  You will notice the symbols are the exact same as the class of fire they extinguish.
These symbols are usually found on the extinguishers themselves, and sometimes they can be used for multiple classes of fire.
It is important to know which fire extinguisher to use on whatever fire you are looking to put out to prevent harm or further fire spread and damage.
Fire Extinguisher Ratings
The effectiveness of a fire extinguisher doesn't necessarily have to do with the size of it, but the rating instead.  In Class A and B fire extinguishers, there can sometimes be a number before the letters A and B.  This number is based on tests run by Underwriters Laboratory Inc. and are represented in the following table:
| | | |
| --- | --- | --- |
|   | RATINGS | EXPLANATIONS |
| CLASS A | 1-A thru 40-A | For each A, the extinguisher contains the equivalent of 1.25 gallons of water. Example: "20-A" extinguisher fights Class A fires as well as 25 gallons of water (20 x 1.25 = 25), and a 40-A extinguisher offers 50 gallons' worth of firefighting power. |
| CLASS B | 1-B thru 640-B | 1-B is interpreted as the extinguisher being capable of extinguishing a 1 square foot Class B fire. For example, a 40-B extinguisher should allow a novice operator the ability to cover and extinguish a 40 square feet Class B fire. |
| CLASS C | none | Tests determine nonconductivity. |
| CLASS D | none | Tested for reactions, toxicity and metal burnout time. |
| CLASS K | none | Tested against 2.25 square feet of cooking oil in a deep fryer. |
Typical Portable Fire Extinguishers On A First Due Fire Apparatus
Fire departments are required by NFPA 1901 Standard for Automotive Fire Apparatus, Chapter 6 Initial Attack Fire Apparatus, subsection 6.9.4 miscellaneous equipment to carry 2 specific fire extinguishers:
One approved dry chemical portable fire extinguisher with a minimum 80-B:C rating
One 2 1/2 gal (9.5L) or larger water extinguisher
Are you familiar with what your fire department carries?  Here are some of the most common ones we have on front line fire apparatus and what they can be used for –
| | | | | | |
| --- | --- | --- | --- | --- | --- |
| FIRE SERVICE PORTABLE EXTINGUISHERS | CLASS A RATING | CLASS B RATING | CLASS C RATING | CLASS D RATING | CLASS K RATING |
| WATER EXTINGUISHER (CAN) | YES | NO | NO | NO | NO |
| CO2 EXTINGUISHER | NO | YES | YES | NO | NO |
| DRY CHEM EXTINGUISHER | YES | YES | YES | NO | NO |
Tips And Tricks To Using A Water Can On Scene
Water cans are just that, extinguishers filled with water under pressure.  The water cools the burning fuel to help extinguish the fire.
When using a water can on a Class A fire of ordinary combustibles, the stream must be aimed at the base of the fire to cool and extinguish.  Distance from the fire may vary, but typically 10 to 30 feet from the fire is appropriate when you start the PASS method (Pull, Aim, Squeeze, Sweep).  Once the fire is knocked down, you should move closer to soak the remaining smoldering material or overhaul it soaking intermittently.  
Watch this video from Fire Engineering to see how to properly deploy a water can on a small fire.   Something as simple as positioning can make a big difference.
Carbon Dioxide Extinguishers
Carbon dioxide, or CO2, is a colorless and noncombustible gas that is heavier than air and is used to smother fires by blanketing and preventing the fuel from interacting with the air around the fire.  It is stored in a liquid state and discharges as a white cloudy gas, which prevents its effectiveness at a large distance from a fire.
CO2 is applied to Class B liquid fires by getting close to and applying it across the surface in a sweeping motion and overlapping the burning liquid.  It cools and smothers, hence should be discharged even after it appears the fire is out to continue the cooling process and preventing reignition.
For Class C fires, CO2 is a great choice.  It is nonconductive, noncorrosive, and leaves no messy residual product on the equipment.  It does have to be applied at a close range to be effective, so sometimes you have to get up close and personal.
Watch the video from Ansul to learn more:
Deploying A Dry Chem Extinguisher
A multipurpose dry chemical extinguisher is applied to the base of a Class A fire in a back and forth motion.  You are trying to coat the fuel, so you want to apply it to the entire base surface.  Your distance should be about 10 feet from and 3 feet above the seat of the fire to get a thorough coating.  However, if the fire is deep-seated, it may be difficult to extinguish due to not being able to coat effectively.  
If applying to a Class B fire, the distance from the base of the fire remains the same at approximately 10 feet.  An exception to the discharge is to sweep slightly past the fire edges and keep it at a low angle so you don't splash the liquid fuel.  The intent is to stop the chemical reaction by extinguishing the flame by reducing the heat.
When attacking Class C fires, if possible, the equipment should be deenergized.  Regardless, dry chem is effective but messy when used to extinguish Class C fires.  Safe distances are appropriate in these circumstances.
Check out this video description of a dry chem extinguisher and its uses from the chemical manufacturer themselves, Ansul.
Inspection, Storage, And Maintenance Of Fire Extinguishers
Servicing of fire extinguishers is important in maintaining their state of readiness.  Each extinguisher is inspected by a certified service professional from a fire extinguisher service company.  If inspection is completed without issues, they will label it with a dated inspection tag.  However, you can inspect the extinguishers daily for the following:  
Located in correct spot on apparatus and accessible
Charged correctly on pressure gauge
No obstructions to horn/nozzle
Lock pins are intact
No physical damage
Full maintenance on any fire extinguisher should be performed to applicable codes and standards for your jurisdiction.  To learn more about fire extinguisher maintenance and inspection intervals, see NFPA 10:  Standard For Portable Fire Extinguishers.
To learn more about portable fire extinguishers and other suppression systems, enroll in our Private Fire Protection Systems I course online.
Be sure to follow Couch Courses on Facebook, Instagram, Twitter, and LinkedIn for special offers, new courses, and more!